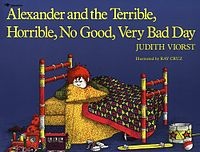 Alexander and the Terrible, Horrible, No Good, Very Bad Day, published in 1972, is an ALA Notable Children's Book written by Judith Viorst and illustrated by Ray Cruz.It has also won a George G. Stone Center Recognition of Merit, a Georgia Children's Book Award, and is a Reading Rainbow book.
He could tell it was going to be a terrible, horrible, no good, very bad day. He went to sleep with gum in his mouth and woke up with gum in his hair. When he got out of bed, he tripped over his skateboard and by mistake dropped his sweater in the sink while the water was running. He could tell it was going to be a terrible, horrible, no good, very bad day. It was a terrible, horrible, no good, very bad day. Nothing at all was right. Everything went wrong, right down to lima beans for supper and kissing on TV. What do you do on a day like that? Well, you may think about going to Australia. You may also be glad to find that some days are like that for other people too.
From the moment Alexander wakes up, things just don't go Alexander's way. As he gets up, the gum that was in his mouth the night before winds up in his hair. When he gets out of bed, he trips on the skateboard and drops his sweater into the sink while the water was running. At breakfast, Alexander's brothers, Anthony and Nick reach into their cereal boxes and find amazing prizes, while Alexander ends up with just cereal. On the way to school, he doesn't get the window seat in the carpool. At school,his teacher, Mrs. Dickens, doesn't like his picture of the invisible castle (which is actually just a blank sheet of paper), criticizes him for singing too loud, and leaving out 16 when he counts. His friend, Paul, deserts him for his third best friend and there is no dessert in his lunchbag. At the dentist, Dr. Fields tells Alexander he has a cavity, the elevator door closes on his foot, Anthony pushes him in the mud, Nick says he is a crybaby for crying, and Mom punishes him in the act of punching Nick. At the shoe store, they're sold out of Alexander's choice of sneakers (blue ones with red stripes), so Mom has to buy him plain white sneakers, which he refuses to wear. At Dad's office, Alexander makes a mess of things when he fools around with everything there (the copying machine, the books, and the telephone) getting to the point where Dad tells him not to pick him up from work anymore. At home, the family has lima beans for dinner (which he hates), there is kissing on TV (which he also hates), bathtime becomes a nightmare (too much hot water, soap in his eyes, and losing a marble down the drain) and he has to wear his railroad train pyjamas (he hates his railroad train pyjamas). At bedtime, his nightlight burns out, he bites his tongue, Nick takes back a pillow, and the family cat chooses to sleep with Anthony. Throughout the book, Alexander mentions that he wants to move to Australia.The book ends with Mom's assurance that everybody has bad days, even people who live in Australia. In the Australian and New Zealand versions he wants to move to Timbuktu, not Australia.
| | |
| --- | --- |
| | To view the Alexander and the Terrible, Horrible, No Good, Very Bad Day (book) gallery, click here. |