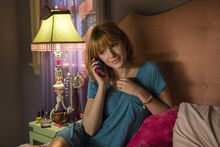 Celia Rodriguez is the main antagonist of Disney's 2014 live-action film, Alexander and the Terrible, Horrible, No Good, Very Bad Day.
Physical Appearance
Celia has strawberry blonde hair, nearly pale skin, white shirt, pink skirt and brown eyes.
Biography
History
Celia was born on Thursday, October 2, 1997, in Los Angeles.
Personality
Celia is a selfish, attractive teenage girl who bosses Anthony around, such as by lecturing him that he can "make a heart with a less than and a three" and that he could have put "XOXO or I heart you" in his text messages to her. She also appears to not be very smart as she called Anthony on the phone after he said he was taking his Drivers test after school.
Relationships
(Ex-boyfriend; formerly)